We're all very familiar with the benefits of real-time data processing and decisioning, for businesses and consumers alike. The ability for enterprises to respond quickly and automatically to our actions mean that we see more relevant information (even in the form of advertisements) and are able to serve ourselves more capably than ever before. And … Read More
---

The open source community has recently innovated data infrastructure, business analytics, and machine learning. LigaData now brings that pioneering spirit to industrial grade continuous decisioning systems.

Our flagship product to meet your detection and response data needs
For years companies have tried to solve the challenges of enterprise security with solutions that are too manual, too siloed, and too proprietary. Based on our open source Kamanja decisioning engine, Flare is an end-to-end detection and response product that connects to a wide range of data sources, empowering our customers to identify and address security threats in an integrated, continuously improving manner.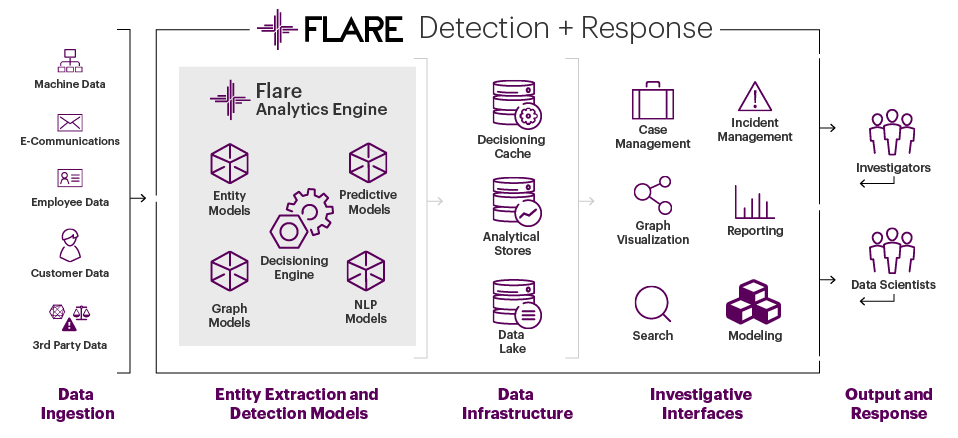 Want to learn more about the underlying lambda architecture? Download our white paper.
And if you'd like to discuss how LigaData products can help safeguard your organization, please:
Combat cyber attackers by handling threat intelligence quickly and effectively with LigaData's detection and response products.
Kamanja
Kamanja is LigaData's open source continuous decisioning engine
With its modular design and easy integration with other open source and proprietary data technologies, Kamanja solves challenging problems in finance, medicine, insurance, security, communications, and any area where vast amounts of data must be processed robustly in real-time.
To learn more about Kamanja's part in an open source credit card fraud detection platform, download our white paper. 
If you prefer to get straight into the code, head to kamanja.org.
And if you'd like to discuss how our products can help safeguard your organization, please:
Using LigaData's products, easily identify and deter financial fraud with minimal friction to your valuable customers.
CUSTOMER COUNCIL
In 2016, LigaData hosted our first customer council
We were delighted to welcome Eric Schmidt of Alphabet Inc, Amr Awadallah of Cloudera, Usama Fayyad of Barclays, Jan Rabaey of UC Berkeley and Rajesh Parekh formerly of Groupon as our speakers.
Click here to see what they said

LigaData collaborates with Fortune 1000 clients to tailor open source data technologies addressing modern decisioning challenges.
ABOUT US
 With deep experience in data science, LigaData pioneers open-source big data technology for Continuous Decisioning. Founded by Yahoo! execs, LigaData collaborates with some of the world's largest finance, security, and communications companies to help them to select and deploy custom solutions addressing their specific business challenges.
CAREERS
Come help us use data and create open source big data technologies to radically transform decisioning for the world's biggest enterprises. If you're eager to make work amongst diverse colleagues across the globe ranging from seasoned experts to the brightest young talent, we'd love to talk to you! 
LigaData has offices in the US (Menlo Park and Seattle), Europe and the Middle East
CONTACT US
Product demo or general enquiry? We'd love to hear from you:
Mailing Address
855 El Camino Real 13a-257,
Palo Alto, California
94301 USA
Email
Offices
Menlo Park | Directions
708/716 Oak Grove Avenue
Menlo Park, California
94025, USA
Seattle | Directions
15405 SE 37th St #100
Bellevue, Washington
98006, USA